Worship with us Sundays at 10:30 a.m.
We have resumed in-person worship!
>It is recommended Prospect church attendees be fully vaccinated.
>Regardless of vaccination status, a mask covering the mouth and nose is required when inside the church building.
>Please sign in on entering the building.
>Please stay home if you have any symptoms of illness. 
>Please maintain 6' distance between households.
We will continue to offer online access to worship services. For details, please call or email the church office before 1 pm on Friday. Find videos of recent services here.
Prospect embraces a diversity of worship styles.
We celebrate communion on the first Sunday of each month unless otherwise noted. Communion is open to all.
At this time, hymns are led by soloists while the congregation hums along. On some Sundays and special services, the choir will sing, masked and distanced. Our music director Carol (Kia) Sams is a master at blending traditional church music with innovative and popular choral pieces, many of her own composition. The choir rehearses at 9:15 am on Sundays when they sing.

Children and youth of all ages are welcome in worship. Activity packets are available for families who wish to use them. Godly Play church school is usually offered during worship on the second Sunday of the month but is on hiatus until we can meet in person without masks.
Throughout the church year, there are a variety of additional services, including a summer outdoor service, Longest Night service in December and a Maundy Thursday service during Holy Week.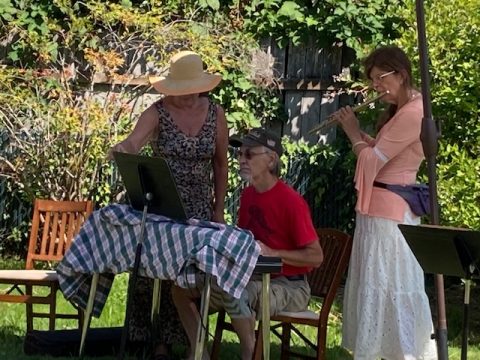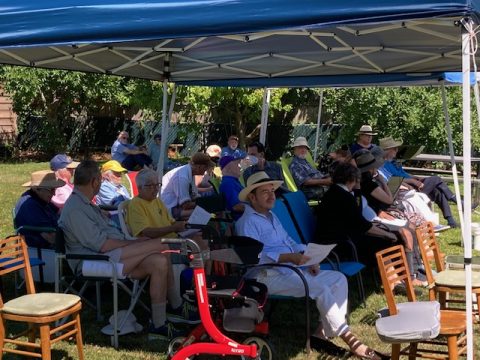 Worship Schedule
These services will be held in the sanctuary and on Zoom. If you wish to attend remotely and need the link, please contact the church office by 1 pm on Friday.
December 2021
Dec 5 Second Sunday of Advent; Communion
Rev. Meighan Pritchard preaching "Preparing the Way for God"
Dec 12 Third Sunday of Advent; Congregational Meeting after worship
Guest preacher: Rev. Rick Russell
Dec 19 Fourth Sunday of Advent
Rev. Meighan Pritchard preaching
Tuesday, Dec 21 7:00 p.m. Longest Night service,
Led by Rev. Meighan Pritchard and Jan Kinney
Friday, Dec 24 5:30pm Christmas Eve service
Rev. Meighan Pritchard preaching
Dec 26 First Sunday after Christmas
Guest readers will share a Christmas story